The US work visa is a visa type that helps a lot for people who wants to travel to the country for work purposes, there fore in this article you will find easy ways to apply for US work visa and then the eligibility requirements needed for the visa. Most importantly, U.S is a popular working destination country. People from all over the world want to work in the U.S because of the high salaries and good working environments. People going for United States visa must first obtain a visa, either a nonimmigrant visa for temporary stay, or an immigrant visa for permanent stay.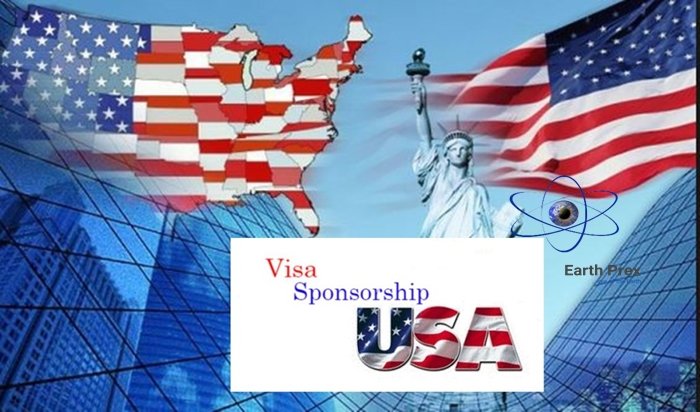 Note: If you wish to work in the United States for a temporary period you will require a nonimmigrant work visa.  You cannot work on a visitor or business visa, or under the Visa Waiver Program. Now tjust know that…
You may be able to come to the U.S. as either a:
Temporary or permanent foreign worker, or a
Temporary visitor for business
However, in most countries, the United States government does not issue work visas for casual employment. Work visas are based on a specific offer of employment.
In most cases, a petition must be filed and approved by the United States Citizenship and Immigration Services (USCIS) before applying.
Breakdown of the US Work Visa? (Apply for US Work Visa)
The USA work visa is used for people to go and work temporarily in the U.S. for a specified period of time. The period of time that you will be working should be noted in the employment contract or the visa application.
If you have a U.S nonimmigrant visa, then you cannot start working unless you have a work permit. The U.S work permit is called an Employment Authorization Document (EAD) and it can be obtained immediately after your visa is approved.
How Can You Work in the US (Apply for US Work Visa)
If you have the zeal in working in the United States, then you should try obtaining a temporary work visa, or an employment based green card. A variety of temporary work visas exist, and each will allow you to stay in the US for a specific and definite amount of time. Also, each one has different requirements, and it is important to determine which one you may be eligible.
Can my Work Permit get denied?
Yes. There are three reasons that your work permit may be denied. Firstly is if you filled out the work permit application form (I-765) incorrectly, forgot to sign it, or left out a required space. Secondly less common reason for denial is that your green card application is processed so quickly that you already have an approved green card before your work permit application is finished.
Why is a U.S. Work Permit is Necessary?
Working in the U.S. is a big opportunity for people from across the globe. In most cases, foreign nationals wishing to work in the United States will be required to apply for a U.S. work visa.
Processing Time for US Work Permit
The processing time for US work permits depends on the type of visa you are applying for and where the application is processed.
Example if you are applying for an H-1B visa and it is being processed through the California center it can take 8 to 10.5 months.
Various kinds of US Temporary Work Visas (Apply for US Work Visa)
H1B visa: Person in Specialty Occupation: To work in a specialty occupation needs a higher education degree or its equivalent. This Includes fashion models of distinguished merit and ability and government-to-government research and development.
R-1 visa: Temporary Nonimmigrant Religious Workers: To help foreign nationals to come to the U.S and work in a religious organization. Only ministers and those who are directly tied to religious work are qualified.
TN visa: NAFTA Workers: This visa allows lawyers, scientists, engineers, teachers from Canada to work in the US temporarily.
O1 Visa: Visa for persons with extraordinary abilities: The O1 visa is for those who show expert knowledge in science, business, education, athletics, or art, including international recognition for their work.
H-1B1 visa: Free Trade Agreement (FTA) Professional – Chile, Singapore. To work in a specialty occupation. Requires a post-secondary degree involving at least four years of study in the field of specialization. (Note: This is not a petition-based visa.)
L1 visa: Intracompany Transferee: Visa to work at a branch, parent, affiliate, or subsidiary of the current employer in a managerial, or in a position requiring specialized knowledge.

Again

P-1 visa: Individual or Team Athlete, or Member of an Entertainment Group: To perform at a specific athletic competition as an athlete or as a member of an entertainment group.
H-2A visa: Temporary Agricultural Worker: For temporary or seasonal agricultural work. Limited to citizens or nationals of designated countries, with limited exceptions, etc.
H-2B visa: Temporary Non-agricultural Worker: For temporary or seasonal non- agricultural work. Limited to citizens or nationals of designated countries, with limited exceptions, etc.
H-3 visa: Trainee or Special Education visitor: To receive training, other than graduate medical or academic, that is not available in the trainee's home country or practical training programs.
I visa: Representatives of Foreign Media: The visa allows journalists and those who work in the information or media sector to complete their work while in the U.S.
P-2 visa: Artist or Entertainer (Individual or Group): For performance under a reciprocal exchange program between an organization in United States and an organization in another country.
P-3 visa: Artist or Entertainer (Individual or Group): To perform, teach or coach under a program that is culturally unique or a traditional ethnic, folk, cultural, musical, theatrical, or artistic performance.
US Work Permit Requirements
Passport(s) valid for 60 days beyond the expiration date printed on the immigrant visa.
Form DS-260, Immigrant Visa and Alien Registration Application.
Two (2) 2×2 photographs.
Civil Documents for the applicant.
Financial Support. At your immigrant visa interview, you must demonstrate to the consular officer that you will not become a public charge in the United States.
Completed Medical Examination Forms
US Work Visa Requirements (Apply for US Work Visa)
Below are the requirements for the work visa in the United States of America…
Valid passport – which needs to be valid for the entire duration of your stay in the U.S and an additional six months after you return.
US visa photo – which you need to upload when you fill out the online application form.
The Receipt Number, which you can find on your approved Petition for a Nonimmigrant Worker (I-129 Form) which your employer filed.
A confirmation page that you have completed your Nonimmigrant Visa Application (DS-160 Form).
Receipt that proves that you have paid the application fee. For US work visas, the application fee is $190.
Proof that you will return to your home country after your work in the U.S ends. This applies to all types of work visas with the exception of the H-1B and the L visa.
For those applying for an L Visa, you will also need to have a filled I-129S form (Nonimmigrant Petition Based on Blanket L Petition). You should bring this form with you during your visa interview.