Canada Spouse Marriage Visa Application: Spouse Visa Canada Application & Requirements
The Canada spouse marriage visa application principle and procedure requires you as a married person to be able to bring in your spouse into your country of residence. We all know how important it is for families to be together and share love with each other, therefore Canadian spousal sponsorship is how a Canadian citizen or permanent resident can sponsor their partner to come to Canada and live permanently. Therefore if you are married and worried that you may not see your spouse again or be with your spouse again, this is the he opportunity for you to request for that visa application for your spouse.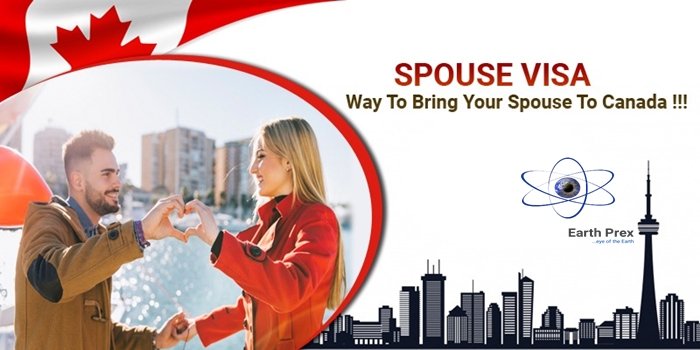 Note: A foreign national or individual seeking spousal sponsorship to Canada faces a highly complex legal process. Yes, this happens irrespective of whether the application is submitted domestically or at a Canadian embassy abroad.
The category of spouse, common-law partner or conjugal partner seeking to immigrate to Canada must be sponsored by a Canadian citizen or permanent resident.
FAQs on Canada Spouse Marriage Visa Application
How long does it take to sponsor a spouse in Canada?
This is a nice question, an average processing time of a spousal sponsorship is approximately 12 months. However, depending on specific circumstances and regions, it may be shorter or a prolong period of 36 months. Finally, always note that sponsorship can be done by a Canadian citizen or a permanent resident.
Do I Get Permanent Residence if I Marry a Canadian? (Canada Spouse Marriage Visa)
This is a No. Getting married to a Canadian does not automatically give the spouse Canadian a permanent residence. However, Once you are married or in a common-law relationship, you can then apply for a spousal sponsorship.
How much does it cost to sponsor a spouse in Canada?
The government processing fee to sponsor a spouse is $550 CAD currency. Applicants will also need to pay a Right of Permanent Residence Fee of $490 CAD before a visa can be issued.
Is an Interview Required for Spousal Sponsorship?
This are questions some people usually ask so as to know how to be prepared for that. Immigration interviews are rare for spousal sponsorship cases. Spousal sponsorship immigration interviews usually occur when there are lack of documents supporting the relationships, contradicting information on the forms vs. documents, age and religious difference, a short period of time between meeting your spouse and marriage.
Can I sponsor my spouse to Canada without a job? (Canada Spouse Marriage Visa)
It will be good for you to be well fit financially before sponsoring your spouse to join you. Although, You do not need an income or a job to sponsor your spouse. It's good to give proof of how you and your spouse will support yourselves when the spouse gets to Canada.
Can my spouse come to Canada while waiting for the spousal sponsorship visa?
Not really exactly as you taught. Visitors to Canada may travel in and out of Canada throughout their out-land application process as long as their visitor visa is valid.
Can I Cancel My Spousal Sponsorship?
You can withdraw your sponsorship application at any time before the person you're sponsoring becomes a permanent resident of Canada.
Review application on sponsorship process (Canada Spouse Marriage Visa)
Citizens and permanent residents of Canada may sponsor their spouse, common-law partner, or conjugal partner to obtain permanent resident status.
IRCC must approve of the Canadian citizen or permanent resident (the "sponsor") and the foreigner (the "sponsored person").
Furthermore, to receive approval, the sponsor and sponsored person must show to IRCC their relationship falls under of the following categories:
Spouse
Common-law partner
Conjugal partner
Sponsorship Relationship Categories
The sponsorship rules for same-sex spouses or partners in Canada are the same as those for opposite-sex spouses or partners. People who were married inside Canada, have a legal marriage certificate from the province which you got married. If you were married outside of Canada, you will also be required to provide a marriage certificate to prove that your marriage is considered legal.
2. Common-Law Partners (Canada Spouse Marriage Visa)
To be considered a common-law partner, one should have lived together with another person in a conjugal relationship for at least one year. This applies to both opposite- and same-sex relationships.
A conjugal partner is an individual outside of Canada who has been in a binding relationship with a Canadian sponsor for at least one year, but could not live with their partner. This also applies to both opposite- and same-sex relationships. To sponsor a conjugal partner, you must prove you could not live together due to some reasons.
4. Inland Spousal Sponsorship
Inland sponsorship category; shows the foreign spouse or partner must have temporary resident status in Canada, which can be as a worker, student, or visitor. Applicants may be eligible for an open work permit, which ensures they can work for a Canadian employer while the application is processed.
5. Outland Spousal Sponsorship (Canada Spouse Marriage Visa)
The Outland sponsorship category applies to a situation where the foreign partner is living outside of Canada. While the sponsored individual may still be able to travel in and out of Canada during the application process.
Conditions after IRCC Approves the Application
Couples must fulfil the below tasks once IRCC approves their application:
Sponsors should be financially responsible for their loved one for at least three years.
As a Sponsored person, You are not allowed to sponsor another person for five years after they have been sponsored.
However, we explain more further, it will be best to know who or certain p[ersons that are eligible for any sponsorship…
Who can sponsor (Canada Spouse Marriage Visa)
Canadian citizens and permanent residents may be eligible to sponsor if they meet this criteria:
They are at least 18 years old.
They are a Canadian citizen or permanent resident, or they are registered in Canada as an Indian under the Canadian Indian Act.
Canadian citizens living abroad must demonstrate to IRCC they plan to live in Canada with their partner once their partner becomes a permanent resident.
They demonstrate they are not receiving social assistance unless they have a disability.
They can provide for the financial needs of the sponsored person.
Who can be sponsored
Any of the following three groups can be sponsored. All sponsored persons must be at least 18 years old:
Spouse: The spouse of the Canadian citizen or permanent resident needs to be legally married to the sponsor.
Common-law partner: If the partner is not legally married to the sponsor, they must have been living with the sponsor for at least 12 consecutive months.
Conjugal partner: If the partner is not legally married to the sponsor, but has been in a relationship with the sponsor for at least one year, resides outside of Canada, and is unable to marry the sponsor, IRCC may recognize the relationship as a conjugal partnership.
Reasons You May Not Be Able to Sponsor (Canada Spouse Marriage Visa)
Have declared bankruptcy which has not been discharged
Were convicted of

An offence of a sexual nature,
A violent crime,
An offence against a relative that caused bodily harm or
Threatened or attempted to commit any of the above offences—depending on the nature of the offence, how long ago it happened and if you received a pardon

Are sponsoring a spouse or partner but you signed an undertaking for a previous spouse or partner and it hasn't been three years since they became a permanent resident,
Previously sponsored someone and did not pay back any social assistance that they received while the undertaking was in place.
Are in default on an immigration loan or a performance bond
Did not pay court-ordered alimony or child support.
Are sponsoring a spouse or partner and you were previously sponsored as a spouse, common-law or conjugal partner and became a permanent resident of Canada less than five years ago,
Are in a penitentiary, jail, reformatory or prison,
Have already applied to sponsor your current spouse or partner and haven't received a decision.
How to Apply for Spousal Sponsorship
IRCC asks for two applications to be submitted together at the same time: the sponsorship application and permanent residence application.
1: Find out if you are eligible to sponsor.
2: Get IRCC's application package.
3: Pay necessary fees on IRCC's website. Fees usually include processing fees, right of permanent residence fee, and biometrics fee.
4: Mail the two applications together to IRCC.